---
Where I'm Coming From II
4 – 31 October 2021 www.whereimcomingfrom.world
Supported by Genesis Foundation and Bagri Foundation. In partnership with Jatiwangi Art Factory (Indonesia), Perfocraze International Artist Residency (PIAR, Ghana), Plebeian Artistic Activist Project (PAPP) and Baan Noorg Collaborative Arts and Culture, Thailand.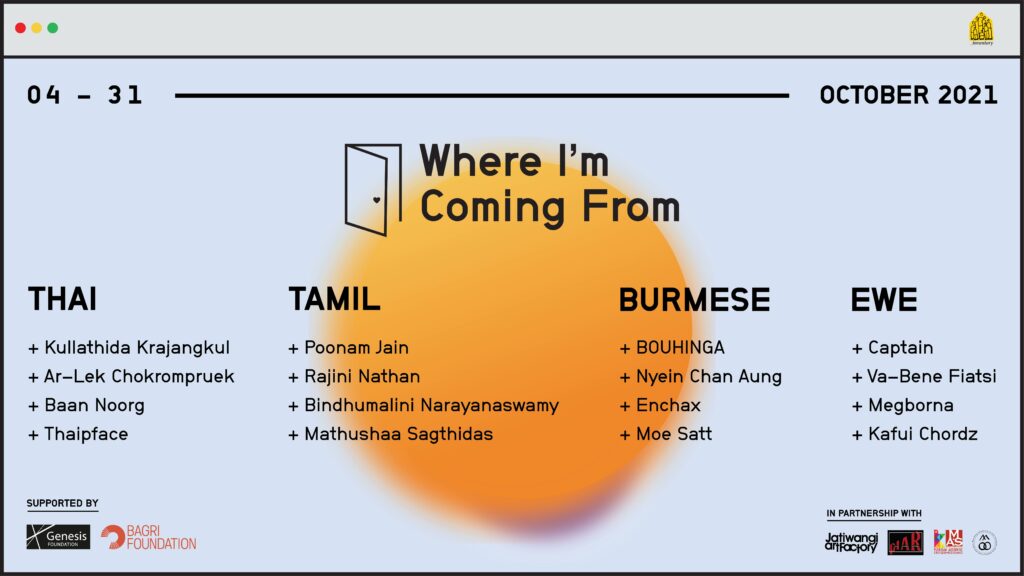 A new iteration of Where I'm Coming From, the digital programme curated by myself and Rhine Bernardino as co-directors of _inventory Platform. Highlighting Thai, Tamil, Burmese and Ewe languages.
---
Jenny Brockmann: Bypass – The Emergence of Voices
October 2021 – #LIMITS at Goethe Institut London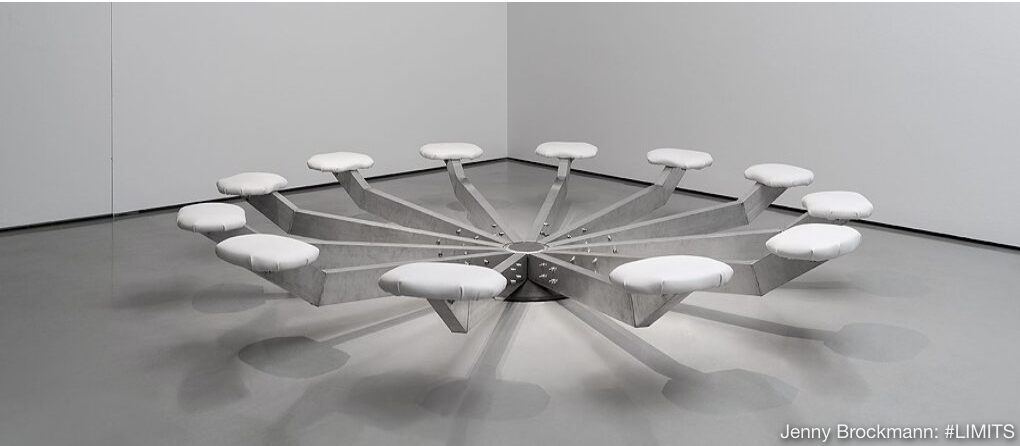 The discursive performative installation Jenny Brockmann: #LIMITS curated by Linda Rocco at the Goethe Institut London refers to the allegory of skin. As the largest and most versatile organ in the human body, the skin acts as a shell delimiting the inside from outside to protect us against environmental influences and maintain homeostasis, our inner balance. Jenny Brockmann: #LIMITS will set up a public laboratory in the library and auditorium of Goethe Institut London for four weeks, centred around the interactive sculpture Seat#12, discursive materials as well as objects and thought cartographies. Research will be carried out on the properties of skin in the literal and metaphorical sense, inviting guests and the public to question the relationships between inside and outside, sensitivity, permeability, and the shifts within dynamics of demarcation, identification and re-identification.
1st OCT, 6-8pm Entanglement #1: Into Out-of Skin explores modes of communication as tools for knowledge production, with invited guests including Neuroscientist Angela Richards and British Sign Language translator Kyra Pollitt. The workshop challenges assumed relationships between sender and receiver, considering language as a device for systematic exclusion. // 4th OCT, 11 to 1pm Entanglement #2: Show me your Skin is a focus group with students and researchers from different backgrounds coming together in a process of negotiation, with invited guests including Dr Victoria Walsh and Biodiversity Researcher Prem Gill. Reflecting on the surplus value generated through the juxtaposition of diverse expertise, participants will tackle notions of opacity in analog and digital media // 8th OCT, 6 to 8pm Entanglement #3: Artificial Skin Poetics utilizes the dynamic regenerative processes of skin and cells to discuss smart textile applications and machine learning, with invited guests including Stem Cell Scientist Dusko Ilic and Emilie Giles. The workshop will aim at producing new knowledge through an active participation from the audience. The events will take place with closed groups of participants on Seat#12. Visitors can participate as silent observers in the research process. Through the process of observation, a performative character will be revealed. https://www.goethe.de/ins/gb/en/ver.cfm?fuseaction=events.detail&event_id=22066200
---
Celsius
28 September – 4 October 2020 Commissioned by Mansions of the Future in partnership with the UK Antarctic Heritage Trust.

WATCH THE FULL ONLINE PROGRAMME HERE https://mansionsofthefuture.org/events/celsius
Celsius Programme is part of Mansions of the Future's Lincoln Live season and Antarctica In Sight – a UK wide cultural programme of activity supported by the UK Antarctica Heritage Trust. This series of talks, discussions and performances was readapted to an online context, and explore the groundbreaking intersections of arts and STEM subjects with a focus on climate change and the uniquely precarious position of Antarctica in today's sociopolitical climate.
Monday 28 Sept: Celsius Online Symposium with Ken Arnold (Creative Director, Wellcome Collection); Prem Gill (British Antarctic Survey & WWF); Camilla Nichol (Chief Exec UK Antarctic Heritage Trust); Studio Orta (artist duo, founder of 'the Antarctica World Passport').
Tuesday 29 Sept Research at the intersections of art and science, a conversation with artist Josefina Nelimarkka . A conversation between artist Josefina Nelimarkka and curator Linda Rocco on research practices at the intersection of art and science. Edited with past documentation and fragments from interactive works, the conversation will touch on issues of climate awareness, value systems in scientific advancement and the power of art to make the invisible, visible.
Wednesday 30 Sept:On Board, on Zoom – a focused discussion session lead by artist Rhine Bernardino exploring possible contributions and expectations in a floating society, a life surrounded by waters.
Thursday 1 Oct: Aidan Moesby in conversation with Prof Thomas Dixon: I was naked, smelling of rain. How does the weather affect your emotions? How might this change with the influence of climate change? A BSL interpreted conversation with artist Aidan Moesby and Professor Thomas Dixon, followed by the screening of I was naked, smelling of rain – a performance piece exploring the impact of the external physical and social weather on our internal mental health and wellbeing. In the midst of the climate change and mental health crises, Aidan proposes that we're the most connected 'on-demand' generation, yet we seem to have lost touch with who we are and where we fit in the world.
Friday 2 Oct: Nourishment in extreme places: eating habits in Antarctica
Saturday 3 Oct: Tales of an ancestral voyage told through spoken word, music and cutting edge technology. Prepare to go on an AfroFuturistic journey, passing through Antarctica to an unknown destination. Lula Mebrahtu is amongst a handful of musicians leading the way for the evolution of music using an interactive midi controller, MiMu gloves, which translate simple hand movements into complex musical compositions.
---
Where I'm Coming From
3rd to 30th August 2020 Curated by _inventory platform (Linda Rocco & Rhine Bernardino). Supported by the Yinka Shonibare Foundation and the Ministry of Culture, Taiwan.

Where I'm Coming From is a month-long digital residency dedicated to four languages that are present and spoken by a significant portion of the migrant community actively working and contributing to the British economy and yet highly invisible: Filipino, Taiwanese, Yoruba and Berber languages. The programme aims to open up conversations around the exclusivity of language in accessing the production and consumption of arts and culture, alongside considering the wider cultural presence of underrepresented artists and groups in international art debates.
The project orients towards increasing opportunities for new ways of working collaboratively, rethinking the impact and role of arts and culture in a pandemic and post-pandemic scenario. It emphasises with careful thought the vested importance of highlighting diversity and multiculturalism in such unique times. Along with this, the project also experiments on how to relocate as well as adapt concepts from one milieu to another – from a physical IRL space as the programme was initially conceived, to its current translation into the digital domain.
Where I'm Coming From directly engages with community groups by inviting them to lead food sessions each Sunday, allowing the general audience to learn about each cultural group's cuisine to possibly reproduce and engage in their own homes.
Artists: Aderemi Adegbite, Taiwo Aiyedogbon, Jelili Atiku, Rhine Bernardino, Kuan-Yu Chen, Aki Pao-Chen Chiu, Yun Ling Chen, Fatima Mazmouz, Gouri Mounir, Lilibeth Cuenca Rasmussens, Aïcha El Beloui, Vanessa Scully
Click here to access the full programme
---
Lo.u For Children
23 November 2019 at Museo Diocesano (Brescia, IT)
I have been supporting the ASST Ospedali Civili in the artistic direction of a charity event for the Paediatric Department of the Hospital. Divided in a morning panel discussion, an afternoon of artists workshops and a fundraising concert, the day celebrate NU Convention of the Rights of the Child.
click here for documentation
---
I'm Here, Where Are You?
26-27 April 2019 at Cambridge Junction (Cambridge, UK)
Festival and programme of workshops co-produced with Liz Counsell and Cambridge Junction. Supported by Unlimited and Arts Council England .
I'm Here. Where Are You?' is a celebration of disability arts across the East of England. The one year project includes focus groups and participatory workshops with those less able to access arts provisions, culminating in a two-day festival at Cambridge Junction. Showcasing the best of inclusive arts in the UK, the festival will address general audiences and professionals through performative and discursive formats.
Click here for documentation
---
10 YEAR ANNIVERSARY GUEST PROJECTS
25th – 27th May 2018 at Yinka Shonibare studio Guest Projects (London, UK)
I have been collaborating with curator Cairo Clarke to host the Opening Event of Guest Projects 10 Year Anniversary, with a series of artistic interventions, all performed by past and returning residents of the space, to celebrate Guest Projects' history and its oeuvre of multi-disciplinary artist projects.
Artists: Tangle, Doug Fishbone, Ilona Sagar, Larry Achiampong, Suzannah Pettigrew, Harriet Middleton-Baker, Raju Rage, and Zinzi Minott.
Music and Sounds with DJ AJ Kwame aka Peter Adjaye (Music for Architecture)
Click here for documentation
---
Nine Elms on the South Bank
9th December 2017 (London, UK)
A public commission from Nine Elms on the South Bank resulting in a day of performances and a participatory installation Meet Me By The Ballons.
Curated by_inventory platform (Rhine Bernardino & Linda Rocco)
click here for documentation
---
Bapor Tabo(o)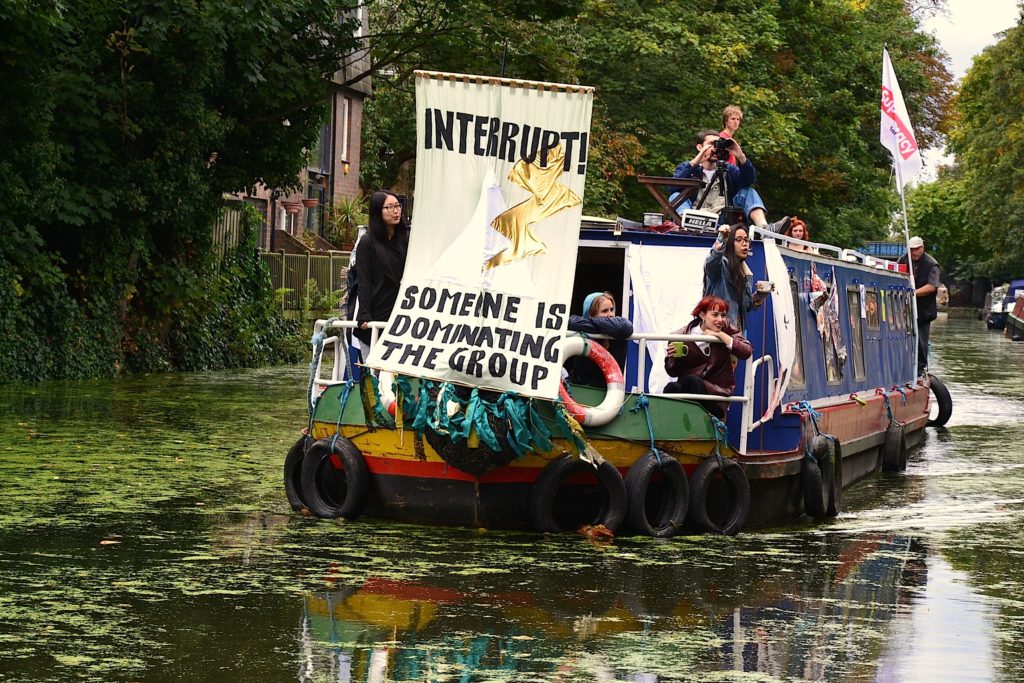 30th September 2017 (London, UK)
A one-day moving exhibition and performances on a 70foot boat for Art Licks Weekend 2017.
Curated by_inventory platform (Rhine Bernardino & Linda Rocco)
click here for documentation
---
LOST SENSES
7th August – 4th September 2017 at Yinka Shonibare studio Guest Projects (London, UK)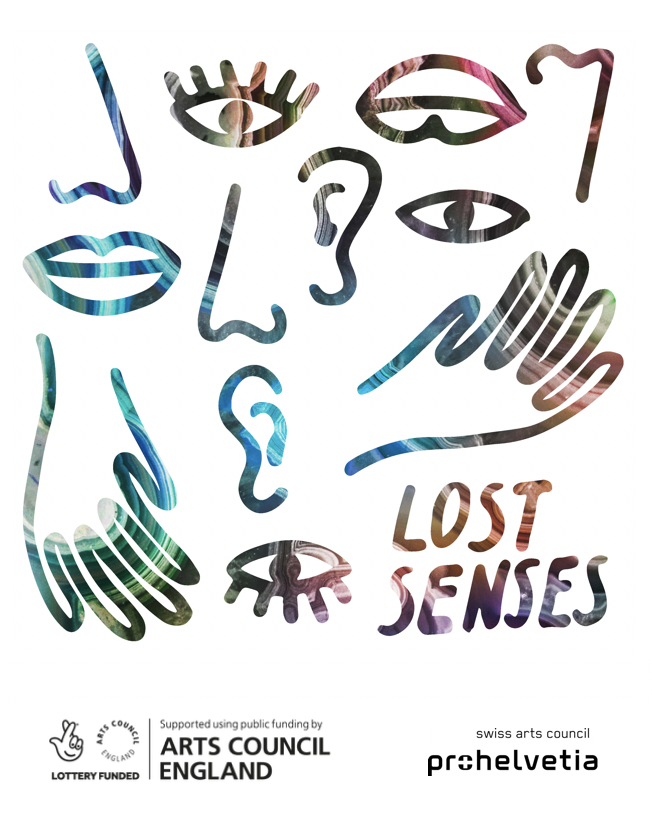 A 30 consecutive-days public programme of events, supported by Arts Council England and Swiss Arts Council Pro helvetia.
LOST SENSES is a 30 days programme of live performances and participatory experimentations for kids and adults to experience and enjoy senses; remembering that embodiment is not textual but consumed by a world filled with smells, textures, sights, sounds and tastes. Generating a re-opening of senses exploring otherness, lost and participation, everyday life is critically tested as a never static reality made of bodies, time and experiences. On the last day, an exhibition of documentation, props, costumes and interpretations, has featured 30 artworks which expanded critical broader reflections on the legacy of the ephemeral programme.
Artists: JocJonJosch, Lawrence Lek & Clifford Sage, Laura Wilson, Harold Offeh, Charles Michel, JoDI, Georgia Lucas-Going, the Uncollective & Sara Sassanelli, Tom Railton, Rhine Bernardino, Katharine Vega, Pier Giorgio De Pinto, Eliza Soroga, Andrea Maciel, Luli Perez, Sharon Gal, Diana Policarpo, House of Absolute, Nora Silva, Paloma Proudfoot, Luca Bosani, Finn Thomson, Beatrice Bonafini, Nataliya Chernakova, Federico Guardabrazo, Jay Jay Revlon, Joshua Leon, Cactus band, Thomas Kaniok
Click here for documentation
---
Brgy.South Kensington
9th-15th January 2017 (London, UK)
A week long performance Art event featuring 10 international artists, open and livestreamed on Youtube 24/7. Curated by_inventory platform (Rhine Bernardino & Linda Rocco)
click here for documentation
click here for publication
---
Rhythmic Osmosis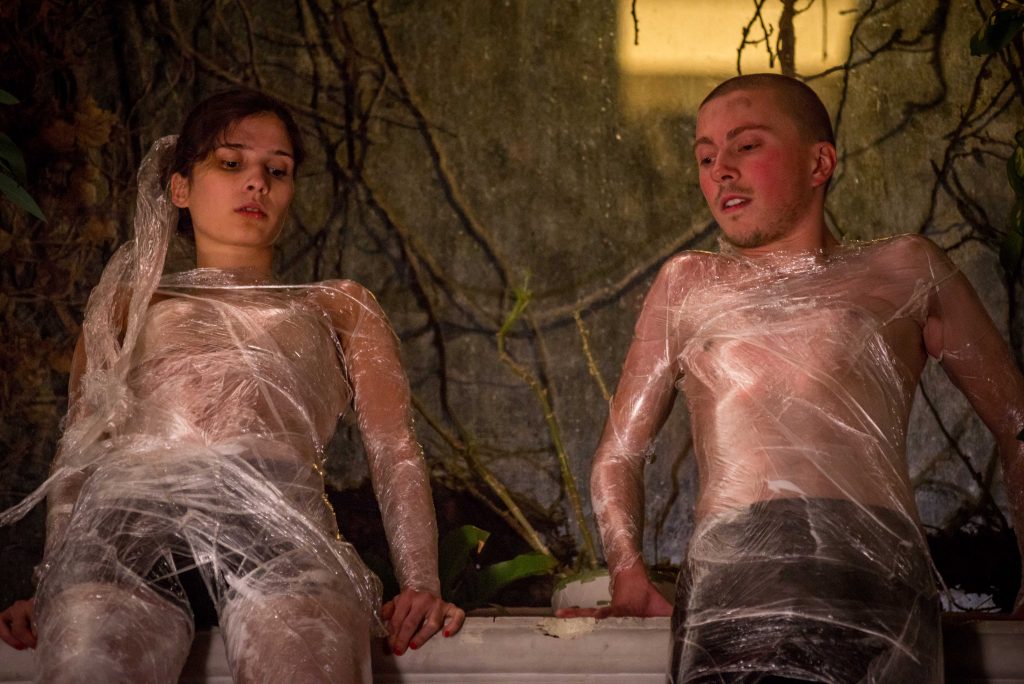 19th and 24th November 2016 (London, UK)
A show in two dates, resulting from paring 7 contemporary dancers from Trinity Laban Conservatoire of Music and Dance and 7 RCA Performance artists. Curated by_inventory platform (Rhine Bernardino & Linda Rocco)
click here for documentation
---
Lime-in-aid: Prevention is the cure
27th August 2016 (London, UK)
An evening of performances by 12 international artists at the Limehouse Town Hall. Built in 1881, the space is currently in danger to be demolished to satisfy private estate purposes.
Curated by_inventory platform (Rhine Bernardino & Linda Rocco)
Click here for documentation
---