---
Where I'm Coming From
3rd to 30th August 2020
Supported by the Yinka Shonibare Foundation and the Ministry of Culture, Taiwan.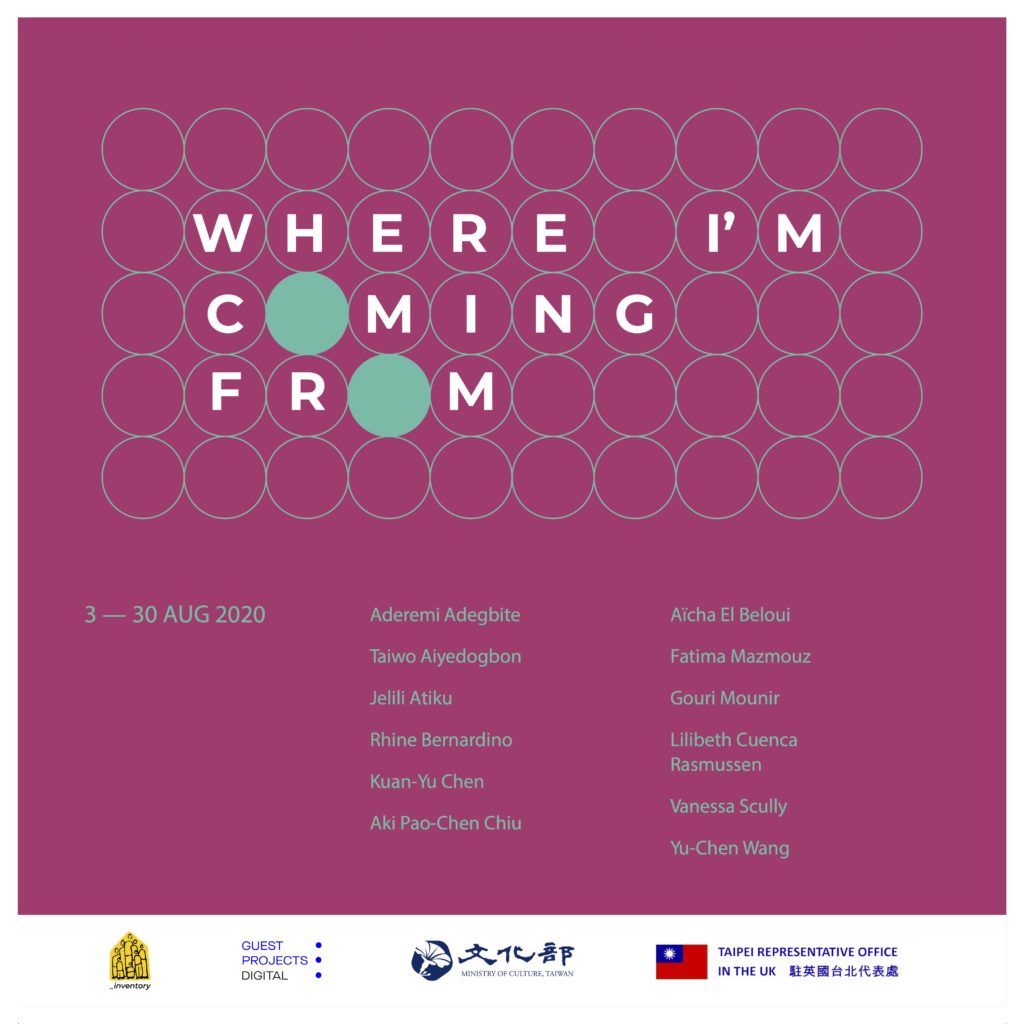 The month-long digital residency will dedicate one week to four languages that are very much present and spoken by a big portion of the migrant community actively working and contributing to the British economy and yet highly invisible: Filipino, Taiwanese, Yoruba and Berber languages. The aim is to reach out to their respective communities based in the UK in order to generate a space to recognise their own culture and traditions, as well as participating in the wider debate around the exclusivity of language in accessing the production and consumption of arts and culture. At the same time, the project wants to open up conversations within the sector to discuss the inclusion of underrepresented artists and groups, and their wider cultural presence in the international debate.
​
The project aims to increase opportunities for new ways of working collaboratively, mixing practices and rethinking the impact and role of arts and culture in a pandemic and post-pandemic scenario, keeping serious emphasis and careful thought of the vested importance of highlighting diversity and multiculturalism in such unique times. Along with this, the project also investigates and experiments on how to relocate and adapt concepts from one milieu to another, from a physical space to a digital one and vice versa.
Where I'm Coming From is curated by _inventory Platform curators Rhine Bernardino and Linda Rocco, and is made possible with the support of the Yinka Shonibare Foundation and the Ministry of Culture, Taiwan.
​
#WICF #WhereImComingFrom
---
Celsius
28 September – 4 October 2020 Commissioned by Mansions of the Future in partnership with Antarctica Trust
Celsius Programme is part of Mansions of the Future's Lincoln Live season and Antarctica In Sight – a UK wide cultural programme of activity supported by the UK Antarctica Heritage Trust. This series of talks, workshops and performances will explore the groundbreaking intersections of arts and STEM subjects with a focus on climate change and the uniquely precarious position of Antarctica in today's sociopolitical climate. The week long programme will feature contributions from artists Rhine Bernadino, Lula Mebrahtu, Aidan Moesby and Josefina Nellimarka. Following covid-19, the programme will be translated online – info coming soon
More info on: https://mansionsofthefuture.org/events/celsius-panel-discussion-qa-and-kairos-2-app-relaunch/
---
The Hybrid Guest
Rhine Bernardino & Lilibeth Cuenca Rasmussen
A duo exhibition at Laure Genillard Gallery, London.
Private View: 16 October, 6 to 9pm. Exhibition continues until 5 December
---
Witches, Scamps and Things

Kelly Sweeney
28 October – 8 November 2020 at Hoxton 253 (London, UK)
I wrote the Exhibition Text for Kelly Sweeney solo-show at Hoxton 253 as well as supporting with the curation of the exhibition. A curator & Artist in dialogue is also scheduled, followed by a Q&A.
28th October: Private View
1st November: Artist and Curator in conversation
5th November: Curator's Tour
---
New Digital Collage
Co-curated with Fabio Paris. New Digital Collage is a year-long online project culminating in a group show at Galerie Charlot (Paris) and Daniel Benjamin Gallery (London) in 2021. Artists are encouraged to submit collage pieces to be periodically added to our online gallery, acting as a growing library of curated digital abstract compositions. www.newdigitalcollage.art