---
Economies of Value: New Art Ecologies
21 January 2022, at the Royal College of Art, London & online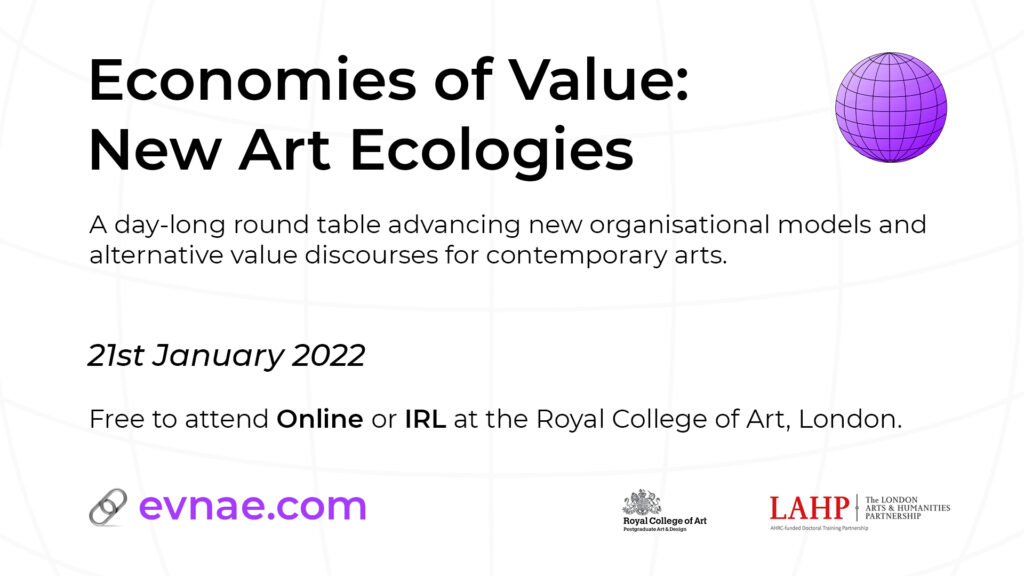 A hybrid round table catalyzing professionals from the arts and STEM field to unpack the problematic conditions of contemporary art as an ecology, and its interrelationships with society and markets. Happening in London and online simultaneously, the one-day event is conceived as a networking opportunity and an experimental ground for knowledge exchange and open propositions.
Researchers and practitioners are invited to respond to contributions that propose alternative organisational models for the arts. Valuing peer-to-peer exchange, common-oriented principles, and participative forms of governance. Imagining long-term collaborative networks and new modes of practice that rely on the cross-pollination of knowledge and a diversity of expertise to face complex problems. To speculate on alternative, horizontal economic models for the arts to exist autonomously as a societal asset, in active dialogue with diverse publics. With: Primavera de Filippi, Pekko Koskinen, Imwen Eke, House of Natural Fiber (HONF), RESOLVE collective. Register on evnae.com
---
Liberty Festival
22-23-24 July 2022, in and across Lewisham.
I'm the lead curator and creative producer for Liberty Festival. Liberty is the Mayor of London's flagship festival of work by artists who identify as D/deaf, disabled and neurodivergent, under the social model of disability. The annual free festival offers an inclusive, accessible and cultural experience for diverse audiences. It has been presented by the Mayor of London since 2003 in high profile locations including Trafalgar Square, Queen Elizabeth Olympic Park and Southbank Centre. Since 2019, it has developed into a touring festival, taking D/deaf and disabled arts to local communities in outer boroughs when it was embedded into his flagship programme, London Borough of Culture. The inaugural London Borough of Culture was Waltham Forest in 2019, followed by Brent in 2020. Lewisham Borough of Culture 2022 will bring an ambitious year-long programme of events to celebrate the borough's diverse neighbourhoods, communities and stories.
Liberty will be emdebbed in Lewisham 2022 Borough of Culture. The three-day festival will present existing works and new commissions encompassing live performance and visual art, online events, talks and workshops, across multiple venues and outdoor spaces.
https://www.london.gov.uk/what-we-do/arts-and-culture/liberty-open-call-rd-grants-ddeaf-and-disabled-artists
https://www.london.gov.uk/city-hall-blog/liberty-inclusivity-and-arts-recovery