---
Jenny Brockmann: #LIMITS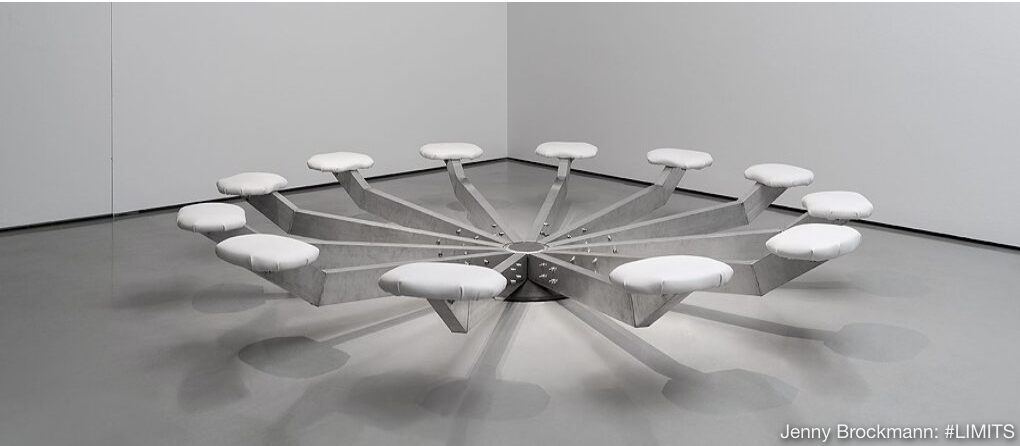 The discursive performative installation Jenny Brockmann: #LIMITS curated by Linda Rocco at the Goethe Institut London refers to the allegory of skin. As the largest and most versatile organ in the human body, the skin acts as a shell delimiting the inside from outside to protect us against environmental influences and maintain homeostasis, our inner balance. Jenny Brockmann: #LIMITS will set up a public laboratory in the library and auditorium of Goethe Institut London for four weeks, centred around the interactive sculpture Seat#12, discursive materials as well as objects and thought cartographies. Research will be carried out on the properties of skin in the literal and metaphorical sense, inviting guests and the public to question the relationships between inside and outside, sensitivity, permeability, and the shifts within dynamics of demarcation, identification and re-identification.
Entanglement #1: Into Out-of Skin
Entanglement #2: Show me your Skin.
Entanglement #3: Artificial Skin Poetics
Jenny Brockmann: #LIMITS is part of the nomadic project BYPASS – The Emergence of Voices initiated by artist Jenny Brockmann and curator Linda Rocco, taking place throughout 2021-22 across six different locations in the UK. Existing within the intersection of arts and science, the project reflects on notions of connectivity from multifaceted perspectives, acting as a bridge to tackle transdisciplinary discourses on collaborative practices.
---
Disability Consultancy for Creative Change (DC4CC)
More info: https://www.junction.co.uk/DC4CC
Disability Consultancy for Creative Change (DC4CC) is a disability-led research project that aims to take vital steps in changing the landscape for D/Deaf and Disabled professionals in the performance sector. Commissioned by Arts Council England and supported by Metal Culture, Cambridge Junction, New Wolsey Theatre and Colchester Arts Centre. The consultants undertaking this research are Kate Marsh, Linda Rocco, Catherine Turner, Liz Counsell and Jamie Beddard.
---