---
Jenny Brockmann: #LIMITS
October 2021 at Goethe Institut London, 50 Princes Gate, Exhibition Rd, London SW7 2PH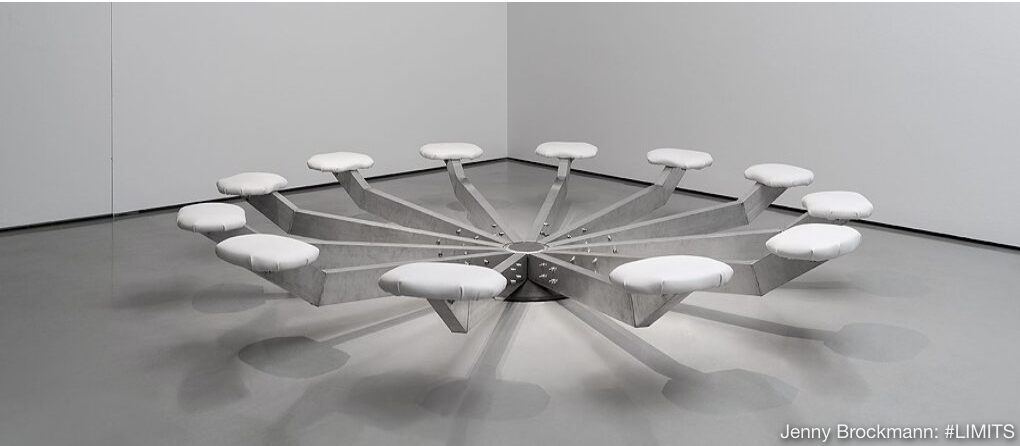 The discursive performative installation Jenny Brockmann: #LIMITS curated by Linda Rocco at the Goethe Institut London refers to the allegory of skin. As the largest and most versatile organ in the human body, the skin acts as a shell delimiting the inside from outside to protect us against environmental influences and maintain homeostasis, our inner balance. Jenny Brockmann: #LIMITS will set up a public laboratory in the library and auditorium of Goethe Institut London for four weeks, centred around the interactive sculpture Seat#12, discursive materials as well as objects and thought cartographies. Research will be carried out on the properties of skin in the literal and metaphorical sense, inviting guests and the public to question the relationships between inside and outside, sensitivity, permeability, and the shifts within dynamics of demarcation, identification and re-identification.
Entanglement #1: Into Out-of Skin explores modes of communication as tools for knowledge production, with invited guests including neuroscientists, performers and interpreters. The workshop challenges assumed relationships between sender and receiver, considering language as a device for systematic exclusion.
Entanglement #2: Show me your Skin is a focus group with students and researchers from different backgrounds coming together in a process of negotiation. Reflecting on the surplus value generated through the juxtaposition of diverse expertise, participants will tackle notions of opacity in analog and digital media.
Entanglement #3: Artificial Skin Poetics utilizes the dynamic regenerative processes of skin and cells to discuss smart textile applications and machine learning. The workshop will aim at producing new knowledge through an active participation from the audience. The events will take place with closed groups of participants on Seat#12. Visitors can participate as silent observers in the research process. Through the process of observation, a performative character will be revealed.
Jenny Brockmann: #LIMITS is part of the nomadic project BYPASS – The Emergence of Voices initiated by artist Jenny Brockmann and curator Linda Rocco, taking place throughout 2021-22 across six different locations in the UK. Existing within the intersection of arts and science, the project reflects on notions of connectivity from multifaceted perspectives, acting as a bridge to tackle transdisciplinary discourses on collaborative practices.
---
Where I'm Coming From II
4 – 31 October 2021, Online
A new iteration of Where I'm Coming From will take place online in October 4-31. The digital programme is supported by the Genesis Foundation and Bagri Foundation, curated by myself and Rhine Bernardino as co-directors of _inventory Platform. The focus for this second iteration will be on artists speaking: Ewe, Burmese, Tamil and Thai. A brand new website is also coming: www.whereimcomingfrom.world designed by Ahmad Sujai from Jatiwangi Art Factory, Indonesia.
---
Liberty Open Call: R&D projects
As part of my work for the Greather London Authority, The Mayor of London is offering new funding towards Research & Development projects by London based D/deaf, disabled and neurodivergent artists or organisations. £70,000 of grant funding available is for projects ranging from £3,000 to £10,000 and successful applicants will be invited to share their project's work-in-progress as part of Lewisham's London Borough of Culture Opening event in January 2022.
Proposals are invited for engaging and thought-provoking projects suitable for outdoor, indoor or digital presentation. All artforms are welcome, including music, visual art, comedy, poetry, street theatre and dance, digital art, participatory installations, workshops and other events.
Applications are welcomed until 30 June 2021. Further information is available in a variety of formats on https://www.london.gov.uk/what-we-do/arts-and-culture/liberty-open-call-rd-grants-ddeaf-and-disabled-artists
info pack: https://www.london.gov.uk/sites/default/files/liberty_2022_research_and_development_grant_information_pack.pdf