23 November 2019 at Museo Diocesano (IT)
I have been supporting the ASST Ospedali Civili in the artistic direction of a charity event for the Paediatric Department of the Hospital. Divided in a morning panel discussion, an afternoon of artists workshops and a fundraising concert, the day celebrate NU Convention of the Rights of the Child.
click here for documentation
26-27 April 2019 at Cambridge Junction
Festival and programme of workshops co-produced with Liz Counsell and Cambridge Junction. Supported by Unlimited and Arts Council England .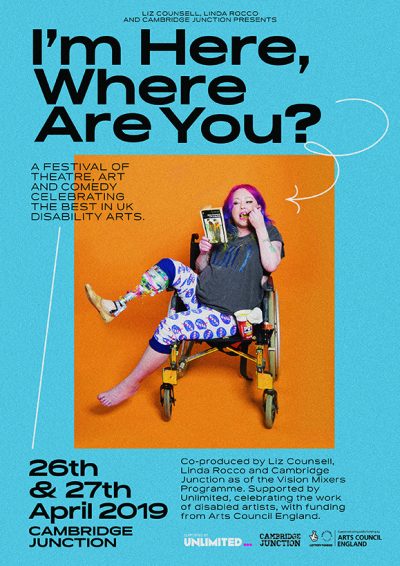 I'm Here. Where Are You?' is a celebration of disability arts across the East of England. The one year project includes focus groups and participatory workshops with those less able to access arts provisions, culminating in a two-day festival at Cambridge Junction. Showcasing the best of inclusive arts in the UK, the festival will address general audiences and professionals through performative and discursive formats.
Click here for documentation
15th – 23rd March 2019 at Dyson Gallery
RCA School of Arts and Humanities Research Exhibition
'There's something lurking in the shadows that might be interesting' features the most wide-ranging enquiries of 39 MPhil and PhD students from the RCA's School of Arts and Humanities. From the 15th until the 23rd of March, the Dyson Gallery and its surroundings will be inhabited by researches in different stages and forms – bringing the artistic process in contact with the external world. Showcasing artworks in various media: from painting to sound, moving image, sculpture and performance, the audience will witness new-born ideas and intentions, reimagined experimentations and grounded practices.
Questioning the dissonant nature of displaying a wide range of artistic processes in the same space, 'There's something lurking in the shadows that might be interesting' highlights the commonalities belonging to the figure of the artist as researcher, and the subjective reactions which can occur when presenting the product of an investigation to wider audiences. Speaking to the search in research, peering into the shadows in order to expose something to light: the exhibition is a call to the overlooked, the subtle, and the raw.
Click here for documentation
25th – 27th May 2018 at Yinka Shonibare studio Guest Projects
I have been collaborating with curator Cairo Clarke to host the Opening Event of Guest Projects 10 Year Anniversary, with a series of artistic interventions, all performed by past and returning residents of the space, to celebrate Guest Projects' history and its oeuvre of multi-disciplinary artist projects.
Performances by: Tangle, Doug Fishbone, Ilona Sagar, Larry Achiampong, Suzannah Pettigrew, Harriet Middleton-Baker, Raju Rage, and Zinzi Minott.
Music and Sounds with DJ AJ Kwame aka Peter Adjaye (Music for Architecture)
Click here for documentation 
7th August – 4th September 2017 at Yinka Shonibare studio Guest Projects 
A 30 consecutive-days public programme of events, supported by Arts Council England and Swiss Arts Council Pro helvetia.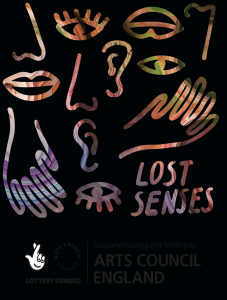 LOST SENSES, a 30 days programme of live performances and participatory experimentations for kids and adults to experience and enjoy senses, remembering that embodiment is not textual but consumed by a world filled with smells, textures, sights, sounds and tastes. Generating a re-opening of senses exploring otherness, lost and participation, everyday life has been critically tested as a never static reality made of bodies, time and experiences. On the last day, an exhibition of documentation, props, costumes and interpretations, has featured 30 artworks which expanded critical broader reflections on the legacy of the ephemeral programme.
Artists: JocJonJosch, Lawrence Lek & Clifford Sage, Laura Wilson, Harold Offeh, Charles Michel, JoDI, Georgia Lucas-Going, the Uncollective & Sara Sassanelli, Tom Railton, Rhine Bernardino, Katharine Vega, Pier Giorgio De Pinto, Eliza Soroga, Andrea Maciel, Luli Perez, Sharon Gal, Diana Policarpo, House of Absolute, Nora Silva, Paloma Proudfoot, Luca Bosani, Finn Thomson, Beatrice Bonafini, Nataliya Chernakova, Federico Guardabrazo, Jay Jay Revlon, Joshua Leon, Cactus band, Thomas Kaniok
Click here for documentation
20th – 21st May 2017 at Delfina Foundation
An exhibition of site-specific commissions and performances
Are memories collectable? How can we collect an artist residency? In a unique collision of past and present, artist residents from the last 10 years at Delfina Foundation are reflecting on their experiences in the house, and invite you to explore their personal and creative memories through a two day live programme and exhibition, 'Open House'.
Featuring a series of commissioned artworks encompassing the digital, performative, gastronomical and sculptural, 'Open House' fosters new lines of creative enquiry into the role of residency programmes in the UK, as well as the intersections between public and private in contemporary art today.
click here for documentation
Artists: Manal Al Dowayan, Mudar Alhaggi, Ahmed Badry Aly, Kathrin Böhm, Leone Contini, Srajana Kaikini, Hala Muhanna, Judy Price, Alessandra Saviotti, Laura Wilson