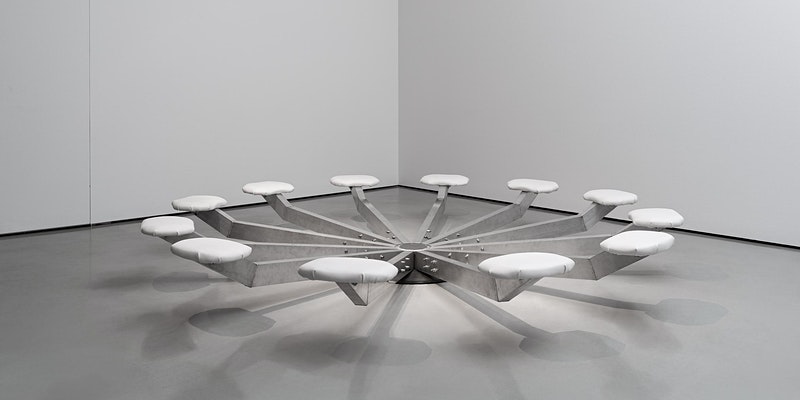 jenny brockmann Limits
October 2021 – #LIMITS at Goethe Institut London


The discursive performative installation Jenny Brockmann: #LIMITS at the Goethe Institut London refers to the allegory of skin. As the largest and most versatile organ in the human body, the skin acts as a shell delimiting the inside from outside to protect us against environmental influences and maintain homeostasis, our inner balance. Jenny Brockmann: #LIMITS, curated by Linda Rocco, will set up a public laboratory in the library and auditorium of Goethe Institut London for four weeks, centred around the interactive sculpture Seat#12, discursive materials as well as objects and thought cartographies. Research will be carried out on the properties of skin in the literal and metaphorical sense, inviting guests and the public to question the relationships between inside and outside, sensitivity, permeability, and the shifts within dynamics of demarcation, identification and re-identification.
1st OCT, 6-8pm Entanglement #1: Into Out-of Skin explores modes of communication as tools for knowledge production, with invited guests including Neuroscientist Angela Richards and British Sign Language translator Kyra Pollitt. The workshop challenges assumed relationships between sender and receiver, considering language as a device for systematic exclusion.
4th OCT, 11 to 1pm Entanglement #2: Show me your Skin is a focus group with students and researchers from different backgrounds coming together in a process of negotiation, with invited guests including Dr Victoria Walsh and Biodiversity Researcher Prem Gill. Reflecting on the surplus value generated through the juxtaposition of diverse expertise, participants will tackle notions of opacity in analog and digital media
8th OCT, 6 to 8pm Entanglement #3: Artificial Skin Poetics utilizes the dynamic regenerative processes of skin and cells to discuss smart textile applications and machine learning, with invited guests including Stem Cell Scientist Dusko Ilic and Emilie Giles. The workshop will aim at producing new knowledge through an active participation from the audience. The events will take place with closed groups of participants on Seat#12. Visitors can participate as silent observers in the research process. Through the process of observation, a performative character will be revealed.
https://www.goethe.de/ins/gb/en/ver.cfm?fuseaction=events.detail&event_id=2206620