I'm Here, Where Are You?
In association with Cambridge Junction Vision Mixers initiative, Arts Council England and Unlimited. Co-produced with Liz Counsell. 
'I'm Here. Where Are You?' is a celebration of disability arts across the East of England. The one year project includes focus groups and participatory workshops with those less able to access arts provisions, culminating in a two-day festival at Cambridge Junction. Showcasing the best of disability arts in the UK and the workshops' outputs, the festival will address general audiences and professionals through performative and discursive formats. 
PROGRAMME
INSTALLATIONS
KRISTINA VEASEY: My Dirty Secret!
Kristina Veasey is a visual artist drawn to things people pass by. She is interested in the visual and human detail; giving new perspectives to familiar landscapes, exploring commonalities and differences between/within communities.With a tendency to flip negatives into positives she finds celebration amongst challenge, beauty in mundanity; often incorporating humor and surprise within her work.
My Dirty Secret! an experiential piece by Kristina Veasey, born from her frustration as a disabled person battling with housework.Through humour and surprise, this installation prompts visitors to observe the everyday in new ways. Will you be so swift to vacuum under the sofa, or pause to re-imagine discarded treasures beneath? My Dirty Secret! is an Unlimited Emerging Artist Commission supported with funding from Spirit of 2012. It has previously been shown at DC1 Gallery, Eastbourne, Apthorp Gallery, ArtsDepot in North Finchley and programmed as part of the Southbank Centre's Unlimited Festival.
VINCE LAWS: DWP Deaths Make Me Sick
The 'DWP Deaths Make Me Sick' Shrouds were created as part of live performance piece, A Very Queer Nazi Faust. Made from recycled bedding, the shrouds are giant pages in John Faust's unfinished masterpiece. The shrouds where on display in Parliament on the 13th Feb at lobby of MPs aimed at getting DWP to adopt 'First Do No Harm' as policy
FELIX PECKITT: The Goldilocks Mixer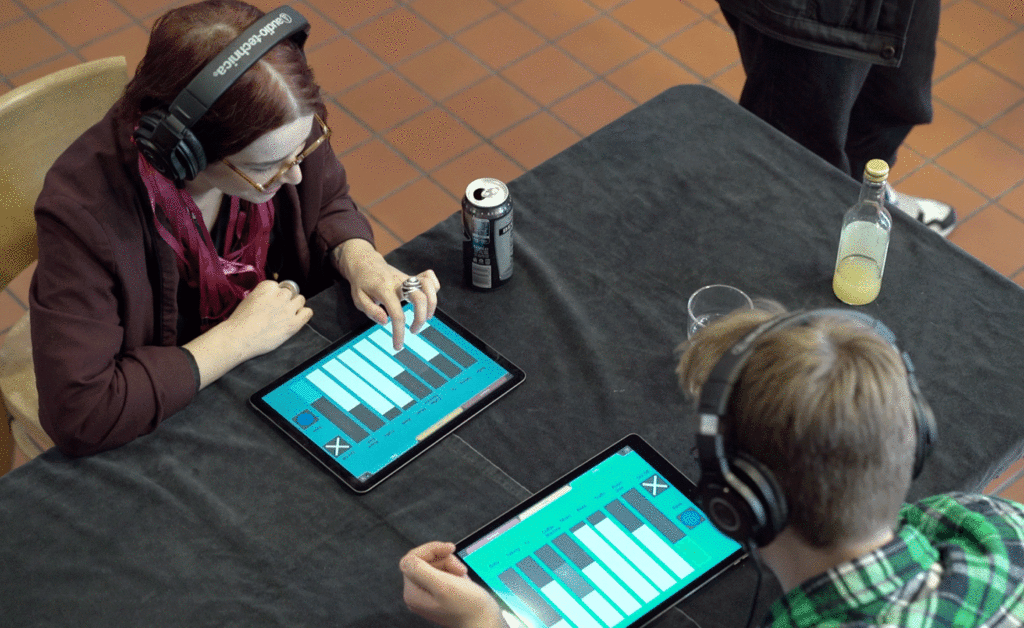 The Goldilocks Mixer is a sound installation by Felix Peckitt that challenges audiences and participants to think about how sound can welcome or isolate people in shared spaces like cafes, theatres and libraries.
You approach the installation. Through headphones sounds greet you from all sides. Traffic, conversation, machinery, music. On the table are objects which shift the balance of the sounds in the space. 
Can you find your ideal soundscape, where the balance is just right? Will you discover your Goldilocks Mix? Or will you have to compromise…
OWEN LOWERY: TRANSITIONS
Owen Lowery is a former British Judo champion who suffered from a spinal injury while competing and is now tetraplegic. Owen's latest project, Transitions, involves poetry and film, and considers the nature of transition, both from a personal perspective, and in relation to nature, migration, sport, history, and other areas
Owen's poetry has appeared in Stand, PN Review, The Independent, The Times, and The Guardian. He has published two major collections, Otherwise Unchanged, (2012), and Rego Retold (2015)- Owen has performed at venues such as the Southbank Centre, The National Theatre, Belfast's Lyric Theatre, Liverpool's Bluecoat Theatre, Manchester's Whitworth Gallery, Royal Exchange theatre, and Rylands Library, the Arvon Centre in Hebden Bridge, the Play House Theatre in Salisbury.
FRIDAY
SYMPOSIUM
Introduction: Linda Rocco and Liz Counsell
Lorna Heap (Independent Captioner and Access officer at Theatre Royal Norwich)
Conor A and Hannah Woods (HOME Manchester)
Jamie Beddard and Sophie Flack (New Wolsey and Ramps on the Moon)
Clara Giraud (Unlimited)
Unscene Suffolk R&D sharing with Nathan Geering
INDOORS TOO MUCH + CONOR A: Learning To Swim On An Ironing Board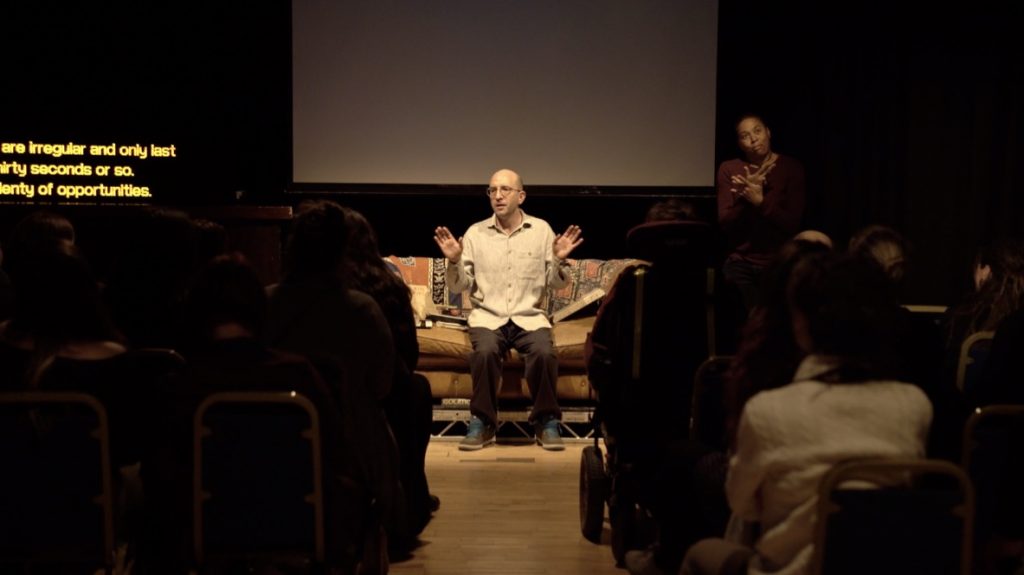 Especially when real life is being indoors too much with fibromyalgia, an illness with too many syllables to be anything other than shit and possibly contagious. Stories are really needed because as a narrative device fibromyalgia is pants. Yes, there's lots of dramatic pain and ennui-inducing fatigue, but there's no real back story, no concrete arc and no triumphant conclusion.
And, anyway, disabled spoken word artist Conor A wanted to tell a different story. Learning To Swim On An Ironing Board is the story of getting better at not getting better, therapeutic eavesdropping (not a widely used therapeutic tool, but what you can expect when your therapist's business card says Terry the Therapist), and how eavesdropping helped him change how he relates to the world.
SATURDAY
BBC Ouch Live podcast recording
Podcast link: https://bbc.in/2ZSnrQ4?fbclid=IwAR2EWZ4d6o4rEzHMN30DcLIS2mWyBfkmeWjFR0WAIexcU544RH1QDJOlBfA
JANE CARTER WOODROW: WHACK-A-MOLE
Whack-A-Mole is a comi-tragedy featuring three generations of women with mild autism spectrum condition, struggling in today's austerity Britain
JOEL BROWN & EVE MUTSO: 111
A powerful duet between two exceptional dancers – Joel Brown (Candoco Dance Company) and Eve Mutso (former Principal Dancer of Scottish Ballet) – as they explore their different strengths and vulnerabilities. 111 is the number of vertebrae Joel and Eve have between them… hypothetically. Eve moves like she has a hundred while Joel's spine is fused and he jokes he only has 11.
'Visually striking' **** (Herald)
JACKIE HAGAN: This Is Not A Safe Space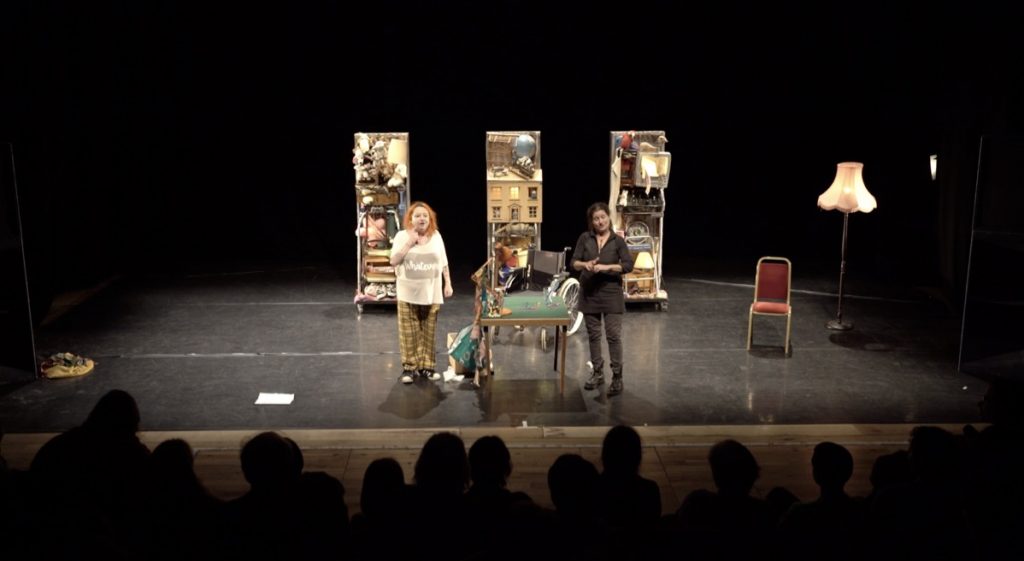 Jackie Hagan has council estate bones, one leg and a cob-on about class. In 2018 she interviewed 80 people living on disability benefits and in this hilarious and deeply effecting solo show she sensitively explores our presumptions, fears and passions regarding who in society deserves our respect, help and how we should deliver it. A poetic comedy about disability and life on benefits. Featuring the real voices of proper skint people, a spot of stump puppetry and deeply poetic comedy. Full of warmth and free crisps, sensitively handled and very funny.